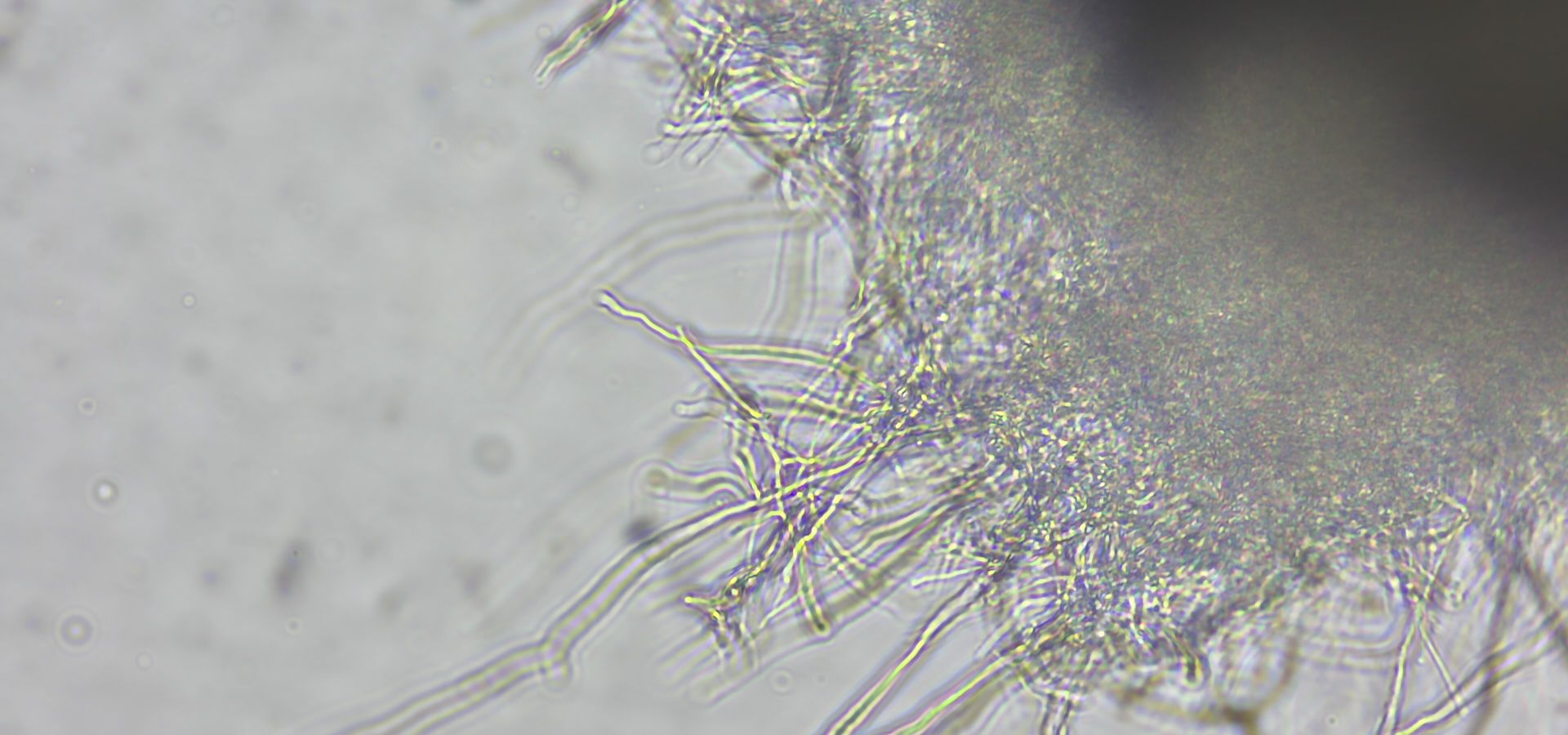 Noor Stenfert Kroese
The Unknown Sessions
Productiehuis Theater Rotterdam
onderdeel van Welcome To Our Guesthouse #6
TR William Boothlaan, Rotterdam

TR William Boothlaan, Studio
Buried in forest litter or sprouting from trees, fungi might give the impression of being silent and relatively self-contained organisms. During these sessions with the overarching theme The Unknowns: An exploration beyond the mysteries of the fungi world, with invited artists, scientists, designers and activists, we dive into a collective process of examining the natural phenomenon fungi and it's mysterious eco-social life to tell us about learning, problem-solving, inter-dependency, creativity, wisdom and intimacy. What is the function of the wood-wide web? Why do fungi help trees and plants communicate to each other? Or share resources? Are fungi-based new technology and artificial intelligence the future? Feel welcome and let's discover the unknowns together!
Schedule
12:30 - Doors open
13:00 - Start The Unknown Sessions
13:10 - Lecture by Chris Julien - Outside the modern garden
14:00 - A talk between Noor Stenfert Kroese and Prof. Andrew Adamatzky
14:50 - A mushroom buffet and thee break
15:15 - A conversation on Thinking - Feeling with a Living Territory, Art as Reciprocity by Weaving Realities
16:00 - An artist talk Cloud Gazing and Offensive Sceneries by Amir Bastani
Chris Julien mixes research and practice in the fields of public innovation, theory and activism, with a focus on ecology and epistemology. He is currently pursuing a PhD at Utrecht university that combines new materialisms and eco-thinking to constitute a field of so-called 'ecological governance'. Furthermore, he is active in Extinction Rebellion and works on urban ecology and artistic research projects with Waag Futurelab, besides siting on various boards and committees. He holds cum laude master's degrees in Conflict Studies & Human Rights and in Cultural Analysis.
Noor Stenfert Kroese is a media artist and scenographer. From a critical post-human perspective her works evolve around the relationship between humans and non-humans in spatial performative installations. She is currently graduating with an MA in Interface Cultures of Kunstuniversität Linz (AT). After she graduated in 2020 with the BA in Scenography from the Amsterdam University of Arts (NL).
Andrew Adamatzky is Professor of Unconventional Computing and Director of the Unconventional Computing Laboratory, Department of Computer Science, University of the West of England, Bristol, UK. He does research in molecular computing, nature-inspired optimization, collective intelligence and robotics, bionics, computational psychology, nonlinear science, novel hardware, and future and emergent computation. He theorizes electrical impulses sent by mycological organisms could be similar to human language and recently shared his research.
Weaving Realities is an artist collective - consists of Yuchen Li and Aldo Esparza Ramos - who organizes public performances and workshops around the concept of "sentipensar", thinking through feeling, and the concept of "practical decolonization", which aims to re-educate ourselves into living in harmony with each other and with nature.
Amir Bastani, as a new media artist with a background in fine arts and philosophy, explores the gap between the conscious and the subconscious. He realises his works by designing narratives through real-time processes. Amir is based in Linz/AT, where he is pursuing his PhD. He is currently a lecturer and a researcher at Creative Robotics – University for Art and Design Linz.
The Unknown Sessions by Productiehuis Theater Rotterdam is a result of a fruitful collaboration with Creative Robotics Lab, KUKA, Mushroom Research Center Austria and made possible by Municipality of the City of Rotterdam, Fonds 21 EXTRA and Art Climate & Transition - EU Creative Europe project.