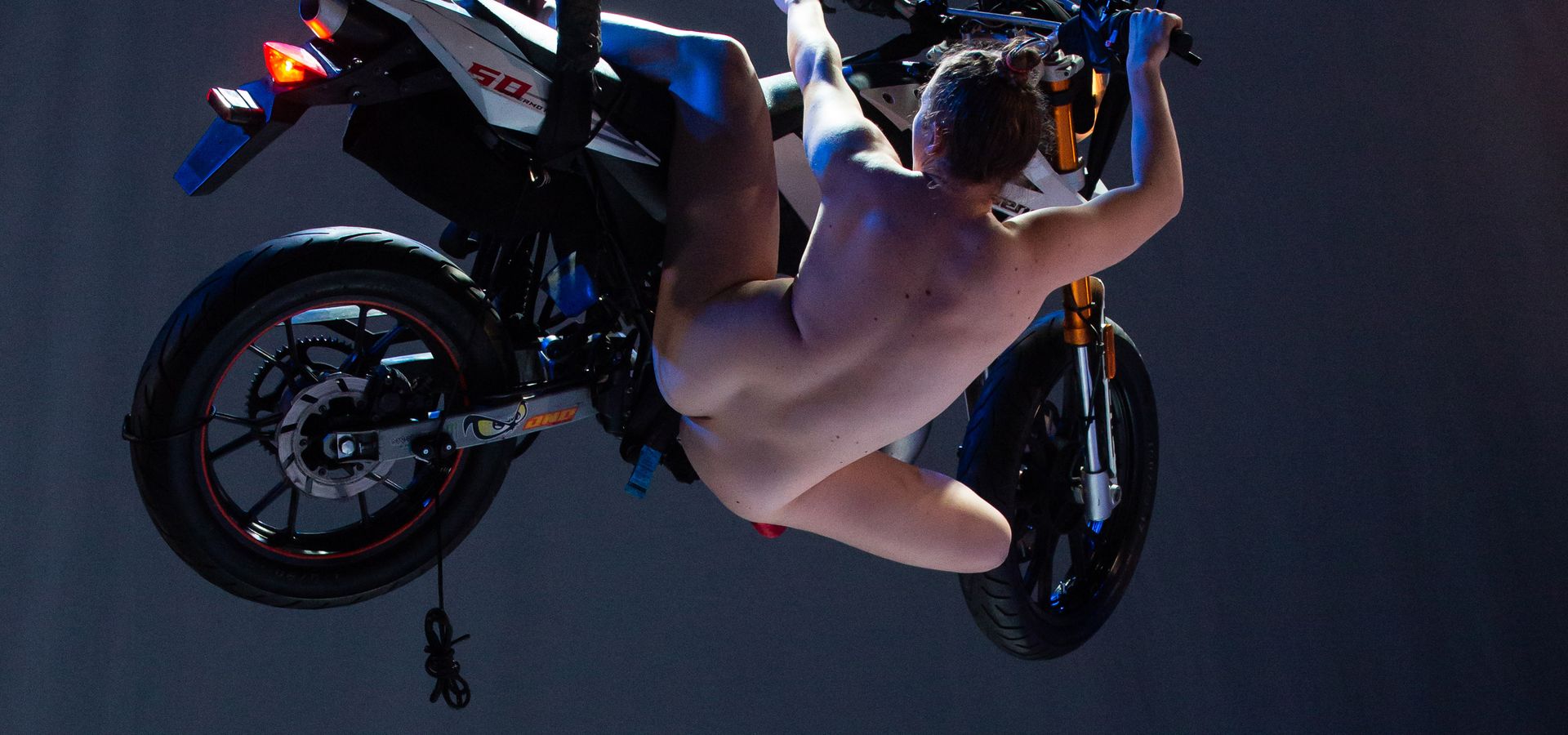 TANZ
Florentina Holzinger
"Feminism, of course, has always been an exercise in science fiction." — Laurie Penny
ImPulsTanz - Vienna International Dance Festival

Volkstheater, Wenen

ImPulsTanz - Vienna International Dance Festival

Volkstheater, Wenen

ROHM Theater, Kyoto

South Hall

ROHM Theater, Kyoto

South Hall
Florentina Holzinger has enriched the international performance scene with dizzying acrobatics, muscular women's bodies and martial-arts fight scenes since 2011 – a generous helping of pop-cultural references and a penchant for trash included. TANZcompletes her trilogy – Recovery and Apollon were the first two parts – about the body as a spectacle, and its disciplining. A ballet class under the direction of Beatrice Cordua, the first ballerina to dance Le sacre de printemps naked (John Neumeier's Le Sacre, 1972), provides the framework for TANZ. The performers undergo rigorous training in "action ballet", the so-called "sylphic studies".
In joint rituals, they learn to master their bodies and minds, and they acquire supernatural powers, such as flying. A quest for perfection in an ephemeral world, during which the gross is transformed into the sublime. In an operatic setting, brutal parodies of sensationalist images emerge, as seen in ballet, comedy and pornography. The gaze regime finds reflection in the character of a porn producer who documents the performance. With a cast of women between the ages of twenty and eighty, all of whom have different backgrounds in dance, TANZ raises the question of the legacy of dance. How can the cult of beauty inherent in this tradition be reconciled?
Biography
Florentina Holzinger studied choreography at the School for New Dance Development (SNDO) in Amsterdam. Kein Applaus für Scheiße(2011), the first joint production of Florentina Holzinger and Vincent Riebeek, earned them a reputation as "most provocative new choreographers" straight away.
In addition to further collaborations with Riebeek (Spirit, Wellness and, most recently, Schönheitsabend), Holzinger presented the solo Recovery in 2015, in which she processed the trauma of a serious accident she had during a performance. This was followed by Apollon, a piece in which Holzinger turned George Balanchine's neoclassical ballet Apollon Musagète into a circus freak show with muses performing bizarre tricks rather than dancing attendance on the god.

In the press
"TANZ is Florentina Holzinger´s masterpiece." (Der Standard 4.10.2019)
"Nevertheless, in this genre (TANZ/ dance) hardly an evening is more accessible. The performers who oscillate between energy and elegance inspire." (Nachtkritik 3.10.2019)
"Amazing how smoothly Holzinger and her group bring back the anarchic element into the contemporary choreographic performance. Fascinating, how ironically she puts feminism as a discourse on the mischievously reference field of masculinity."  (Der Standard 4.10.2019)
"…a spectacle offers Holzinger always" (Wiener Zeitung 3.10.2019)

Quotes on Florentina Holzinger
"A calculated border crossing, which hurts in every way, but also shows what performance art can do. Once you've seen "Apollon", you'll never forget those pictures (and the emotions that they trigger). That's great art." (Peter Jarolin, jury statement for the NESTROY Special price nomination of Florentina Holzinger)
"The paradox, but at the same time very significant for the relationship between men and women, and even more so in the post-#MeToo era, is what triggers Florentina Holzinger's work, which pretty much shows how to deal with sexism and stereotype role models as a women: playful, laughing, fearless, with pride and confidence in their own strength." (Andrea Heinz, Die Zeit)
Florentina Holzinger is "the superstar of the independent dance scene in Austria and (…) in contemporary European choreography." (Helmut Ploebst, der Standard)
"Apollon is a tightrope walk between extremes: a deliberately shocking art (inspired by body art of the 1970s) and pure, sometimes slapstick-like entertainment. (…) A great theater experience for whose, who are managing to stay." (Isabella Wallnöfer, Die Presse)
"Florentina Holzinger positions herself between high culture and trash, between immersive entertainment mechanisms and in-your-face gestures. It deconstructs, or rather, shatters neoliberal body politics and gender relations and let these dominant forms become vague tilting images." (Ada Karlbauer, PW-Magazine)
"I also explicitly advocate a strong female body, because I believe that we have to be ready to fight for what we want and defend ourselves, and ultimately not be scarred – physically and mentally. One of my aims is to really be able to trust one's own body as a force and weapon, in order to gain power to make the right choice." (Florentina Holzinger in Spike Magazine)
"They quote Balanchine in an ironic celebration of beauty. The lyre becomes a hangman's ax, the god is a rodeo bull automaton and the path to Parnassus is treading in a polonaise associated with dildos, not guaranteed unplugged. A superior, clever, fearless, terrific evening." (Egbert Tholl, Süddeutsche Zeitung)
Team
Concept, performance, choreography Florentina Holzinger Performance by and with Renée Copraij, Beatrice Cordua, Evelyn Frantti, Lucifire, Annina Machaz, Netti Nüganen, Suzn Pasyon, Laura Stokes, Veronica Thompson, Lydia Darling Video design, Live camera Josefin Arnell Sound design, Live sound Stefan Schneider Light design, Technical director Anne Meeussen Stage design Nikola Knezevic Stage assistant Camilla Smolders Technical assistant Koen Vanneste Dramaturgy Renée Copraij, Sara Ostertag Coaching Ghani Minne, Dave Tusk Music coach Almut Lustig Outside eye Michele Rizzo, Fernando Belfiore Theory, research Anna Leon Costume advisor, tailor Mael Blau Prosthetic, mask Students of Wigs, Make-up and Special Make-up Effects for Stage and Screen, Theaterakademie August Everding (Munich), Marianne Meinl Stunt support Haeger Stunt & Wireworks Stunt instructors Stunt Cloud GmbH (Leo Plank, Phong Giang, Sandra Barger) Management Something Great (Berlin) & DANSCO (Amsterdam) International distribution Something Great (Berlin) Executive production Laura Andreß Financial administration Julia Haas/SMART (Vienna) A coproduction by Spirit and Tanzquartier Wien, Spring Festival (Utrecht), Productiehuis Theater Rotterdam, Künstlerhaus Mousonturm (Frankfurt), Arsenic (Lausanne), Münchner Kammerspiele, Take Me Somewhere Festival (Glasgow), Beursschouwburg (Brussels), deSingel (Antwerp), Sophiensaele (Berlin), Frascati Productions (Amsterdam), Theater im Pumpenhaus (Münster), asphalt Festival (Düsseldorf)
Supported by O Espaço do Tempo (Montemor-o-Novo), Fondation LUMA (Arles) and De Châtel Award (NL) Thanks to CAMPO Gent, ImPulsTanz, Eva Beresin, Stefanie Leitner, Tanz-Archiv MUK Wien, Stimuleringsfonds Creative Industries, Mochi Catering (Vienna), Andres Stirn Funded by Cultural Department of the City of Vienna, Arts and Culture Division of the Federal Chancellery of Austria and Performing Arts Fund NL